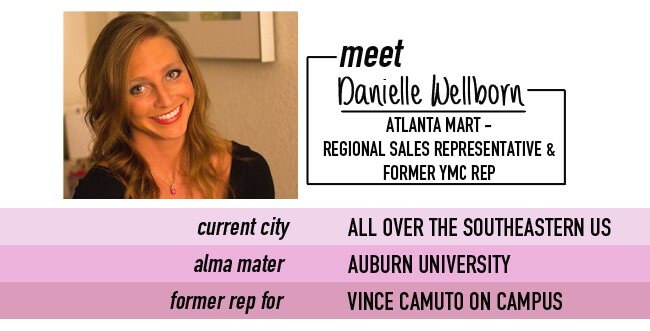 What college did you attend? When did you graduate?
I graduated from the glorious Auburn University with a Bachelor's degree in Apparel Merchandising in May of 2013.
When were you a Brand Ambassador? What brand did you work with?
I was a Brand Ambassador from August of 2011 through May of 2013 – my entire junior and senior year of college! I was an Ambassador for the Vince Camuto brand.
What was your favorite part of serving as a Brand Ambassador?
It is so hard to choose which aspect of the program was my favorite! Overall, I just loved being able to work for such an amazing brand! More specifically, I really loved hosting events. For example, the first year I served as a Brand Ambassador, I was able to plan and execute two Vince Camuto Fashion Shows. At these on-campus events, student models wore apparel and accessories from the brand's recent collections. The functions were glamorous and super fashionable; my peers enjoyed attending, and I LOVED coordinating the opportunity!
How did you earn an internship at Vince Camuto through your Brand Ambassadorship?
Because I completed all required activities and exceeded expectations as a Brand Ambassador, I interviewed and was selected as a Marketing Intern for Camuto Group during Summer 2012. I was SO passionate about the brand – so I was over the moon when I earned the internship. I gave every ounce of myself to Vince Camuto that summer!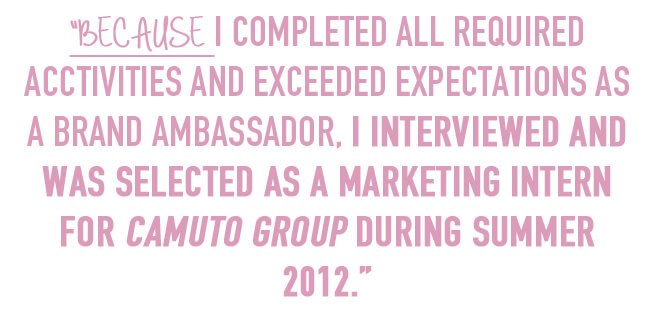 What is your favorite memory from serving as a Brand Ambassador?
The Brand Ambassadorship allowed me to spend a summer in NYC as an intern for Vince Camuto, and this was far and above the most influential aspect of my experience with YMC and VC. During my internship, I learned so much and developed lasting friendships and knowledge that I cherish every day.
Did serving as a Brand Ambassador help shape your career goals? If so, how?
I would definitely say the experience and knowledge I learned about the industry while serving as a Brand Ambassador shaped my professional aspirations. The Brand Ambassador opportunity inspired my passion and interest for the wholesale and selling side of the fashion industry. Further, YMC offered extensive marketing guidance and branding strategies when training and motivating me as a Brand Ambassador. Their understanding of the fashion, marketing, and millennial space taught me a lot and expanded my perspective on brand promotion.
Discuss your professional journey since graduating from college.
After I graduated college I enjoyed an opportunity as an Assistant Buyer for a major retailer, Dillard's. However, I soon realized that I was more passionate about the selling and wholesale side of the business than I was about buying. For this reason, I decided to pursue sales as my ultimate career post college! I am now happily a Regional Sales Representative for an upscale showroom in the Atlanta Mart.
What are your day-to-day duties and responsibilities in your current job?
As a Regional Sales Representative, I travel majority of the time. Each month, I spend about a week scheduling appointments with active and target accounts. After my trip is planned, I set out for a few weeks and travel around the Southeastern US. My sales territory includes Florida, Georgia, Alabama, Tennessee, Kentucky, North Carolina, South Carolina, and Virginia. I represent five lines in the showroom I work for and I travel with all of the lines I'm selling.
How did you use your experience as a Brand Ambassador when applying for and interviewing for post-graduate career opportunities? Did you discuss your experience in your resume and during job interviews?
My experience as a Brand Ambassador absolutely helped me succeed when embarking upon a career in the fashion industry. I learned so many versatile skills essential to fashion success when working as a Vince Camuto Brand Ambassador! I was able to discuss my Brand Ambassador experiences during job interviews. I feel my opportunities with YMC and VC allowed me to secure dream jobs directly out of college!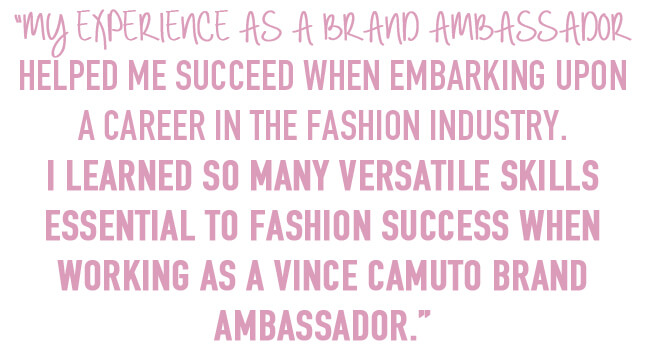 What do you enjoy most about your current job in the fashion industry?
I love people. I'd much rather be interacting with other style mavens than stationed behind a desk! My current job allows me to meet SO many new people and develop relationships with all of them! I get to travel and visit so many different places! Thanks to YMC for helping me define my passions and guide me to professional success.