The Inside Scoop on Millennial and Gen-Z Holiday Gifting in 2020
This year has looked a bit different than others. So far in 2020, we've faced a global pandemic, elected a new president, fought for social justice, and so much more. It goes without saying that this holiday season is sure to look a little different, too!
In such a unique time, the already challenging task of holiday shopping for the Gen-Z'ers and Millennials in your life is even more difficult. So, to make things just a little simpler,  we're giving you the gift of the inside scoop!
We reached out to our proprietary community of influential 18-34 year-olds to get their thoughts on all things 2020 holiday gift giving—from how they plan to shop to what they'd most like to receive. Here's what they had to say.
About Our Millennial + Generation-Z Community
The YMC community, including our @youthmarketing followers, consists of more than two hundred thousand highly-engaged students and young adults from across North America. Over 90% of our network is between the ages of 18-34. In other words, our community represents Millennials and Generation-Z. 
So, to collect the best possible tips for Millennial and Gen-Z holiday shopping, we went directly to the source! We polled our audience via our internal network and directly on Instagram Stories and received an incredible number of responses. 
What We Discovered + What it Means for Holiday Shopping in 2020
Our Instagram survey helped us to uncover some interesting insights that'll impact how consumers are shopping for Millennial and Gen-Z gifts this season. 
It wasn't surprising to learn that, given the current pandemic and the resulting lifestyle changes, Millennial and Gen-Z consumers are now purchasing items they wouldn't have considered in the past. These purchasing decisions are also making an impact on their holiday wish lists. 
Here are some of the key takeaways from our research and what they mean for Millennial and Generation-Z gift giving in 2020:
75% of respondents said they're currently working or attending classes virtually
Millennials and Gen-Z'ers are spending more time at home. So, it's a safe bet to give gifts that align with the homebody lifestyle.
Nearly all respondents said they're favoring online shopping this holiday season
Most Millennials and Generation-Z are staying COVID-safe and ditching the stores this holiday season. Consider ordering a gift online and having it shipped directly to your special someone's doorstep.
Most respondents would rather receive cash than a gift card
With our audience ditching in-store shopping, it was surprising to find that people prefer receiving cash over gift cards to use at their leisure. This means a holiday card with some green definitely isn't out of the question!
Gift cards aren't dead (even though most respondents would rather receive cash)
While most respondents said they'd prefer cash over gift cards, they also indicated that they'd be open to receiving gift cards. There's no shame in the gift card game!
80% of respondents admit to exclusively living in casual and comfy clothes this year
We weren't surprised to see that 80% of our Millennial and Gen-Z survey participants are living in loungewear. So, when it comes to purchasing clothing as a gift, think fuzzy and soft!
A majority of respondents love subscription boxes
Most of the respondents said they'd love to receive a subscription box as a gift because it's the gift that keeps giving. So, if you're open to a monthly spend, this could be your best bet!
Gift Ideas for Millennials + Gen-Z
Based on these findings (and some helpful hints from our community), we've pulled together a few ideas for gifts that're sure to please your Millennial and Generation-Z loved ones.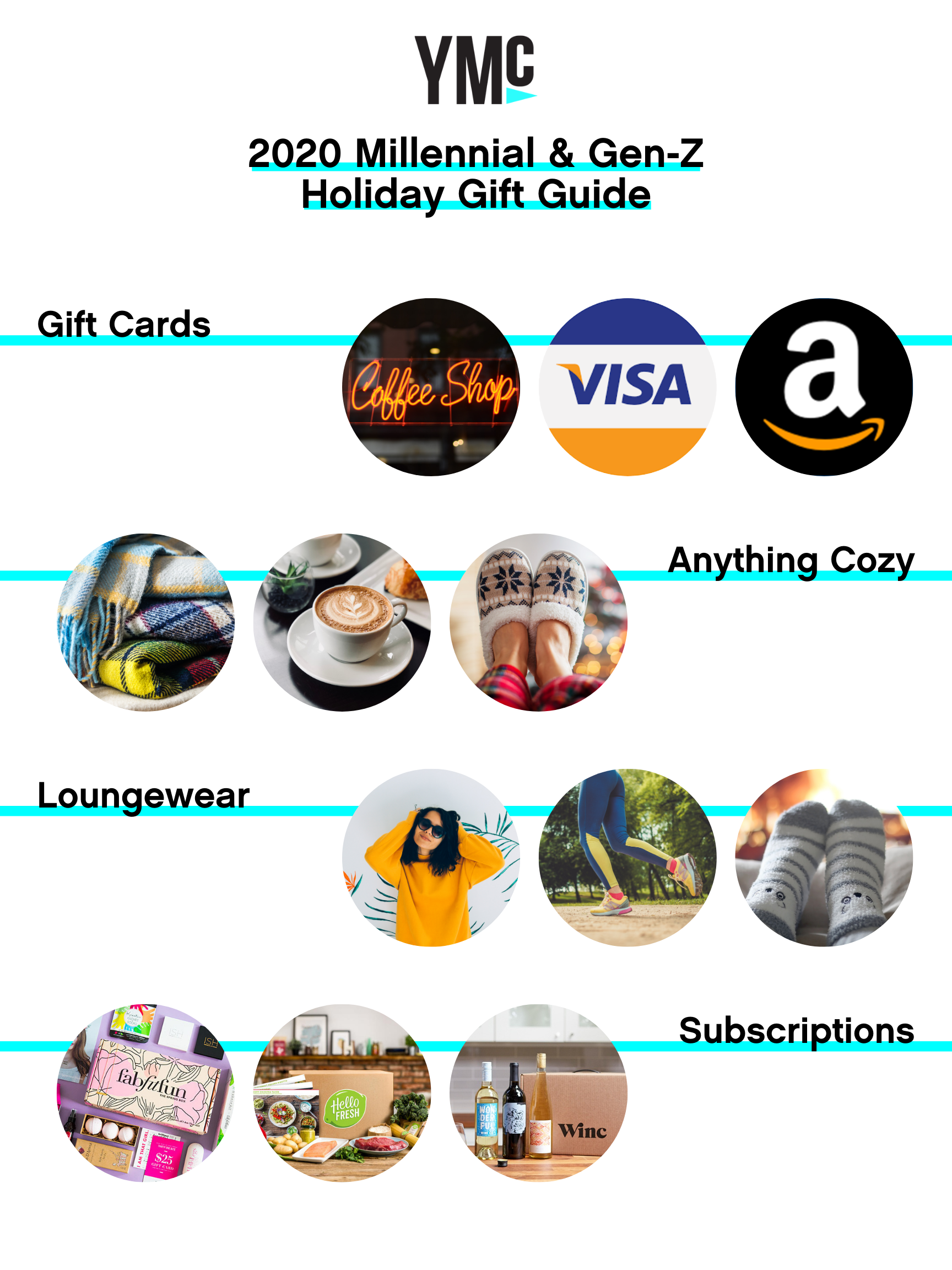 Gift Cards
While our survey participants indicated that they'd prefer cash over gift cards, a gift card adds a personal touch and is easier to use online. When asked what gift cards they'd prefer, some of the top brands our respondents mentioned were Amazon, Target, Sephora, Starbucks, and VISA. They also recommended shopping small and local, as many of those businesses are now offering gift cards and better e-commerce experiences.
All Things Cozy
A vast majority of our participants are working or taking classes remotely, but they indicated that they'd prefer receiving comfy and cozy essentials over items for their WFH setups. Desired items mentioned included blankets, sweatpants, coffee, headphones, and essential oils. 
We recommend checking out Nordstrom Rack, Urban Outfitters, and Nespresso for goodies that'll help keep your loved ones comfy and cozy.
Loungewear
Our Millennial and Gen-Z survey participants indicated that they'd love to receive loungewear as a holiday gift. Some ideas include anything sherpa, boots, slippers, and matching sets.
Check out Aerie, LL Bean, and Adidas for some on-trend loungewear gift options! If you're looking for something more unique, take a peak at Depop's thrifted items. 
Subscription Services
If you're looking for a gift that'll keep on giving after the holiday season, look no further than a subscription service. Our Millennial and Gen-Z respondents noted their favorites as FabFitFun, HelloFresh, and Winc.
Don't Forget to Support Small, Local, + Black-Owned Businesses
We would be remiss if we didn't mention the importance of supporting small, local, and Black-owned businesses this holiday season.
According to an article published by Salesforce, "56% of consumers — and 62% of Millennials, the largest consumer segment — say they spend more at small businesses now than they did last year."  So, we bet the Millennials and Gen-Z'ers on your list will be thrilled to see you're doing the same!
Here's a list of a few of the YMC team's favorite small, local, and Black-owned businesses to inspire your shopping!
We hope this inside scoop on holiday gift giving for Millennials and Gen-Z'ers has you feeling inspired. We wish you a happy, safe holiday season and happy shopping!
Looking for More Than Shopping Tips?
If you're a brand manager interested in reaching more Millennial and Generation-Z consumers, we can help! At YMC, we've been connecting brands with 15- to 34-year-old consumers for two decades—we'd be happy to share our wealth of knowledge with you. Contact us today!