Since Pinterest launched in 2010, pinning has found its way into the pop culture lexicon, and the site now boasts over 454 million monthly users. The website has led to the rise of virtual mood and vision boards, recipes galore, and DIYs ranging from easy-to-execute to downright impossible. Despite Pinterest's role as a powerful social media platform, it's escaped the scrutiny placed on other giants, such as Facebook and Twitter. This can be attributed to the format, which makes it easy to avoid conversations, and to the fact that the content on Pinterest tends to be more innocuous than other platforms, at least on the surface. However, Pinterest has been making moves in the past several years to easily earn it the title as the most positive place on the internet. Let's dive into how Pinterest is curating a positive and healthy community on the platform and why you need to be keeping an eye on it.
Who's On Pinterest?
The user base of Pinterest is primarily described as moms who like DIY. However, their massive community is diverse and generally breaks away from other social media platform demographics. Over 77% of users are female, with age ranges evenly distributed. Additionally, over 28% of all social media users maintain an account on Pinterest, where they primarily use it for purchasing inspiration. Pinterest users are active on the platform, with over 260 billion pins saved and more than 5 billion boards created.
What's It Like?
Pinterest's communities are vast and often intermingled. While TikTok can boast more separate communities, like BookTok, FoodTok, and NoodleTok (is it a bones day?)—Pinterest's users overlap. There are countless options to explore on the platform, including fashion, recipes, fitness, home decor, beauty, art, tattoos, and news.  As of January 2021, the top topics on the platform include:
Home décor

DIY and crafts

Entertainment

Education

Art

Women's fashion

Food and drinks

Beauty

Event planning

Gardening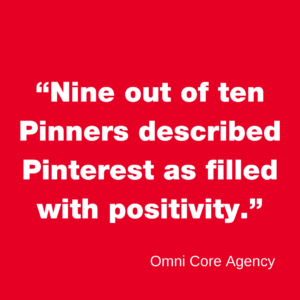 All Social Media is Toxic, Right?
Pinterest isn't immune to most common pitfalls impacting other social media channels. It's been used as a tool to spread misinformation, including falsehoods about COVID-19, the 2020 election, medicine, and mental health. The platform has long been accused of fostering impossible and unattainable standards for young women and girls. There are communities within the platform promoting dangerous behaviors, such as disordered eating, medication abuse, or "cures" for conditions that cause long-term harm. 
These are problems that plague many platforms. However, Pinterest has taken a hardline approach to these issues and has implemented several measures to reduce misinformation and discourage dangerous behavior. 
In March of 2021, Pinterest announced new measures to combat vaccine and COVID-19 misinformation, prohibiting ads that offer COVID-19 cures and treatments, curating expert-lead search results related to the pandemic, and further enforcing their health misinformation policy on the platform.
To build upon the misinformation policy, Pinterest has taken great measures to combat misinformation on the platform across various topics. Through the use of AI, machine learning, and human moderators, Pinterest is removing content on the platform that "may harm Pinners' or the public's well-being, safety or trust."
Mental Health on the Platform
It's no secret that there are detrimental mental health impacts associated with social media use. Often, social media users curate profiles and personas that show an ideal and perfect life, leading to harmful comparisons, especially for young people. 
Pinterest has launched several initiatives to improve mental health and provide a healthy reality check to its users. In October of 2021, Pinterest launched Pinterest Havens, a board that encourages users to "explore the relationship between mental health and rest." This has also been paired with an IRL installation in Chicago to bring awareness to burnout—utilizing art and community programming—and donating to local Chicago community nonprofits. Pinterest also launched a self-care tool, which is presented when searching for key phrases related to emotional and mental health. 
In July of 2021, Pinterest made a big move as the first social media platform to ban all weight-loss ads. Social media often exacerbates disordered eating, with communities dedicated to encouraging this behavior and ads promoting weight loss products compounding the issues.
Representation
White and wealthy women are often put on a pedestal as a standard to attain, a trend that is evident across all social media platforms, pop culture trends, and media. Pinterest has recognized this and is working to ensure that its platform is inclusive and representative of all its users. 
Earlier in 2021, Pinterest launched a hair pattern search option with a focus on BIPOC users. This tool will enable BIPOC users to find hairstyles that fit their hair texture, shape, and needs more efficiently. By creating a dedicated tool for its users of color, Pinterest has shown that it is dedicated to fostering an inclusive environment where all users can find their needs met.
Pinterest also launched a creator fund designed to elevate creators from underrepresented communities. With this fund, creators must sign their "Creator Code," which requires creators to fact-check, practice inclusivity, and be kind. 
Is It Working?
There is no straightforward answer as to whether Pinterest's strategy is working. It's hard to quantify positivity and negativity on a digital platform, and many of these changes are in their infancy. However, all of this action has posited the platform as a leader in social media moderation. Making these bold and public moves signals to users that the platform does care about the health and well-being of its users and is taking action to protect them.
Should Your Brand be on Pinterest?
Brands have been slow to adopt Pinterest, finding the format not overly intuitive towards spreading their brand messaging. However, establishing your brand on the platform is an excellent opportunity to reach a broad and diverse audience looking for inspiration and ideas. 50% of Pinterest users have indicated that they have bought products after seeing a promoted pin. Pinterest users tend to skew towards those with a higher income, with 41% of users earning more than $75,000 per year, further cementing Pinterest as a part of the e-commerce ecosystem.
Pinterest has a very active community that often goes onto the platform with a goa—whether to get a recipe, find a solution to a household chore, buy gifts, treat themselves, or have some fun. That positions Pinterest as an excellent platform for businesses looking to connect and inspire their audiences. The photo-forward nature of the platform gives brands a perfect opportunity to showcase their products and services in a fun and creative way.
How Can YMC help?
If you're interested in establishing your brand on Pinterest and other social media platforms, we're here to help. At YMC, we specialize in connecting brands with Gen-Z and Millennial consumers, and we'd be happy to share our wealth of knowledge with you. Contact us today!