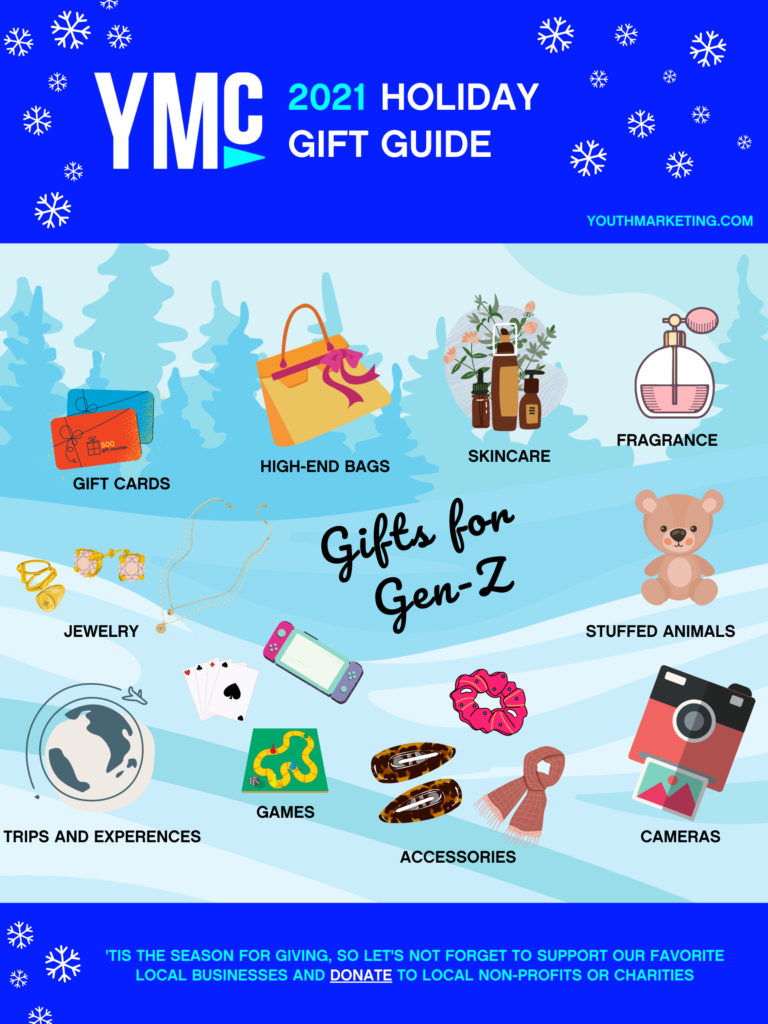 2021 has come and gone, and the holidays are upon us. Without rehashing the highs and lows, we think we can sum it up best with: what a year! 
We're predicting that this holiday season will look a bit different than in years past, even compared to the 2020 holiday season.
With global supply chain issues plaguing industries, including lumber, plastics, and electronics, your gift ideas might need to change. But don't fret—YMC has your back, and we're here to help you shop for the Gen-Z and Millennials in your life. 
About Our Millennial + Generation-Z Community
The YMC community, including our @youthmarketing followers, consists of more than two hundred thousand highly-engaged students and young adults from across North America. Over 90% of our network is between the ages of 18-34. In other words, our community represents Millennials and Generation-Z. 
What We Learned
We reached out to our community via Instagram Stories and a Google Survey to find out what gifts they plan on giving and would like to receive this year. Here's what we learned:
Make An Impact
Young consumers are hyper-aware of the impact of their actions, including gift-giving consumerism's effect on the environment and climate, workers' welfare, and social equity. People want to give and receive gifts that make a positive impact—whether they're from a POC-owned business, help them reduce their carbon footprint, or are from a company that's doing right by their workers. There are plenty of gift guides out there that highlight products from Black-owned, Asian-owned, LGBTQ+-owned, and Indigenous-owned businesses. For those looking to be kinder to the planet, look at productsthat will replace one-use products in your giftee's life.
Dolla Dolla Bill Y'all
Cash is king, and young people want it. Over two-thirds of our audience indicated that they would rather receive cash and gift cards over items. Trends are moving quickly, and individual style is constantly evolving, meaning that Gen-Z will likely want to choose specific "of-the-moment" items. Gen-Z is also entering adulthood amid a global pandemic and growing wealth inequality, meaning that cash can enable them to build their safety net and pay bills.
No Makeup Makeup, But Make It Luxury
After almost two years spent inside, beauty trends have shifted drastically. There's a greater emphasis on skincare and minimal-makeup looks, and matte foundations and liquid lipsticks have given way to dewy and luminous BB creams—with a shiny gloss. Our audience has indicated that they're looking to invest in their beauty routines, with a few select high-end products, such as YSL's Black Opium, Dyson's Hair Dryer, and high-end skincare products from brands like La Mer, Dr. Barbara Sturm, Tata Harper, and more.
WFH Figured Out
Living room couches and dining room tables have replaced offices, with digital nomad lifestyles becoming more common. After spending nearly two years working at home, Gen-Z has their home office set-ups figured out, or they've already returned to their old offices. Avoid getting the young person in your life work-from-home accessories and focus instead on more fun and less practical gifts.
Looking Good!
While the shift to working at home is looking more and more permanent for many workers, the desire to live in sweatpants is waning. Over 61% of our audience wants to focus more on wearing clothing that looks good and makes them feel confident. While sweats seem like a cozy gift, our audience prefers a gift card to their favorite store or some cute accessories. Scrunchies, fun and exciting prints, bucket hats, and tie-dye are all the rage with Gen-Z.
Gen-Z Just Wants to Have Fun
Holiday gifting is an excellent opportunity to get people things that they won't buy themselves. While there's an increased emphasis on getting practical gifts, don't forget to have some fun. The vast majority of our audience indicated that they would prefer to give and receive gifts that don't serve a practical purpose.
Squishmallows, the squishy plushies that have taken over the internet continue to be a hot item this year and provide a bit of comfort to those that might need it. As friend groups begin to reunite, games are topping wishlists, including card games, board games, and video games (especially for Gen-Z's favorite consoles like the Nintendo Switch).
Gift Ideas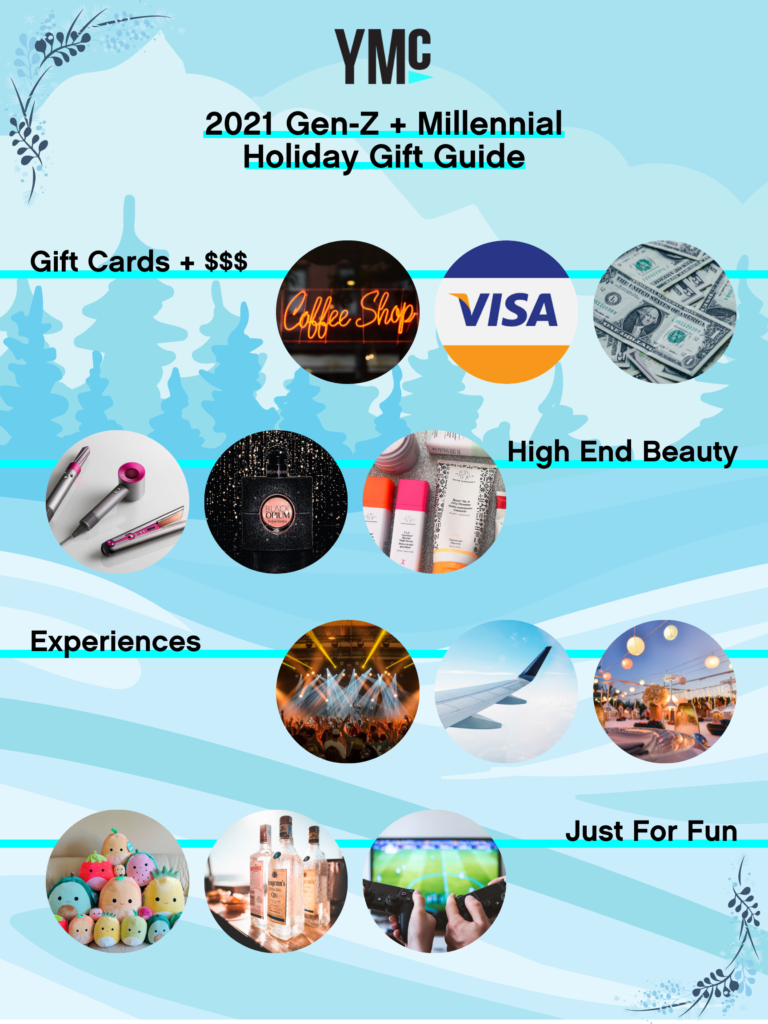 Looking for More Than Shopping Tips?
If you're a brand manager interested in reaching more Millennial and Generation-Z consumers, we can help! We have built a strong community of young people to tap for unique, custom research and insights. At YMC, we've been connecting brands with 15- to 34-year-old consumers for two decades—we'd be happy to share our wealth of knowledge with you. Contact us today!