At the start of the COVID-19 pandemic, our team at YMC (along with most knowledge industry businesses) shut the doors to our offices across the country hoping to be back with our colleagues in a few weeks. When the reality of the pandemic's impact set in, we made the hard decision to shift to a remote work environment for the rest of 2020.
After seeing our team members thrive, we knew we had a big decision on our hands to determine the future of how YMC works. After issuing a comprehensive engagement to all team members and reviewing the results, it became clear that with some hard work, new benefits, progressive systems changes, and a lot of trust, our team members overwhelmingly wanted to shift to a remote-work agency.
With that, we thought it would be nice to take this space to talk about what this means for our employees, our work, and the culture we're building and nurturing.
The #YMCrew
While we always cherished the flexibility that came with working at YMC, with the permanent shift away from being in an office every day, our team members have a lot more freedom to choose a lifestyle that best fits their needs. For a lot of our existing team members at the time, that meant they could stay put or move to wherever they were most comfortable. For our growing team, that means we're able to hire from an incredibly diverse and dispersed pool of talented people. While we're still east coast dominant, check out where our team is hailing from these days!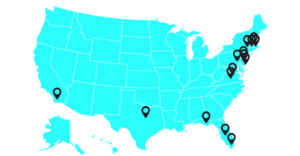 The flexibility of being a remote-work agency allows team members to make personal decisions without the fear of how it will affect their professional careers. Whether that means moving back with family, trying out a new city, or making other lifestyle changes that wouldn't have normally been possible, we now all have the ability to travel and explore new opportunities. 
We strongly believe in location freedom–that our work can be done from wherever our team feels best–whether it's at home, in a cafe, with friends and family, or overseas. Our team members that prefer an office have the ability to use Deskpass and can hotdesk when they want. Our Digital Marketing Manager, Hannah Hickman, will be spending a month in Tel Aviv, where she'll be working remotely with a cohort of other young professionals. 

Our Work
Our clients range from Fortune 100 consumer retail brands to non-profits & associations, to tech start-ups. And each day we work with them to develop integrated marketing campaigns, build ambassador programs, launch mobile tours & pop-ups, execute event activations around the country, and a whole host of creative solutions to our clients' problems. 
We were already structured to work efficiently and effectively no matter where in the country or world our team members were working from, and with our new systems in place, we're a fine-tuned machine. Whether we're hopping on Google Hangouts, Zoom, GoToMeeting, WebEx, BlueJeans, FaceTime, or attempting to sign on to Microsoft Teams, our collaborative environment lives on. We can travel as needed (with all safety protocols in place) and work from the comfort of a place of our choosing, consistently delivering the high-quality work YMC is known for.

The 40-hour workweek is of a bygone era, and while we never needed to see someone in their seat to believe they were working, the shift to a remote-work agency has made our end goal of joining the results-only revolution a reality.
We trust our team members and we believe in an outcomes-based methodology. While there are busier weeks than others, we constantly encourage and enforce an approach that allows everyone to work at a pace that makes sense to them, and when they're done with their work, that's it. The end goal is to help everyone redefine what work-life balance means to them and to have a framework and support system to achieve it and live it on a regular basis.
Culture
While we don't disagree with the flood of think pieces that "something is lost while working remotely", we also think businesses and people will adapt like they always do, and employees dictating terms can rarely be a bad thing. From our perspective, remote work poses a unique challenge to the company culture that we had cultivated before the pandemic. Knowing that, our team put a ton of focus and emphasis on continuing to build strong bonds with each other–whether it was through virtual Fun Fund events, team lunches to welcome new employees, or just general connection over our pets, of-the-moment music and shows, or other virtual activities. Over the past year, we've gotten together virtually for a few happy hour game nights, a succulent planting workshop, terrarium building, tie-dyeing, guided meditation, and more! YMC's Fun Fund allows our team to host fun activities that give us a chance to unwind, get to know each other, and build strong friendships.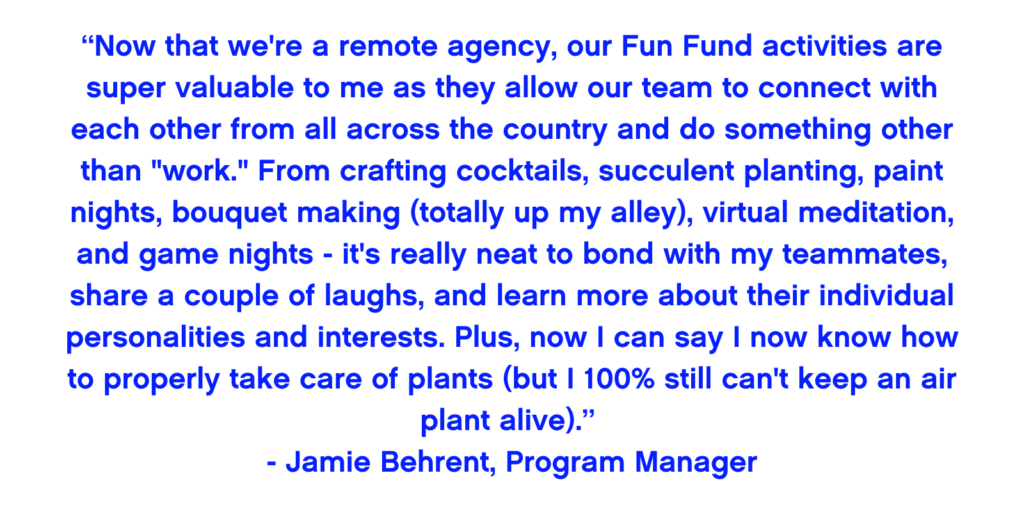 Benefits
Beyond restructuring how we work, we doubled down on how we don't work. This means making sure our team has adequate time to recharge. With over 20 holidays and unlimited PTO, our team has the time to relax and disconnect as needed, without having to worry about whether they can use sick days for mental health, or counting the hours accrued so they can take a much-needed vacation. We also observe Mental Health Fridays, where we're OOO early each and every Friday.
With our time off, we also try to make a positive impact on the world around us. We give our employees Earth Day off each year and encourage everyone to take the time to volunteer for an environmental-focused activity, like a beach clean-up, a trash pickup, or tree planting.
We work every day to ensure that our culture reflects everyone who works at YMC. We are constantly evaluating how we can do better, not just for our team but also for the world.