7 Elements to Consider for Your Brand's Mobile Tour
The rise of e-commerce retail and mobile technology has changed the way Millennial and Gen-Z consumers purchase products and services. This shift has created a double-edged sword for brands. As many purchases are happening online, brands with brick-and-mortar stores are struggling to drive in-store traffic. Whereas brands with only an online presence are lacking a physical, high-touch interaction point to establish a deeper connection with consumers.
The ability to buy online has given consumers control over where they buy products and what they pay—but the product itself is still a deciding factor. Consumers are likely to buy online from familiar, trusted brands. However, if the product or brand isn't familiar to them, they'll buy in person. The reason? The likelihood that an unfamiliar item will need to be returned if bought without seeing and feeling it in person outweighs the convenience of buying online.
Innovative brands like Aerie have found a solution in mobile campus tours. Designing a mobile retail store enabled them to bring a unique shopping experience directly to their target consumers. Aerie's nationwide mobile tour created an inviting atmosphere in which students were excited to shop—and buy. Through the mobile tour, the brand saw significant increases in daily average sales and numbers of units sold. There was an average of 800 customers per campus and 80K social media impressions per week.
With those results, it's no wonder that mobile tours are exploding in popularity across a variety of industries—particularly fashion and retail, consumer packaged goods, and entertainment. Mobile marketing, or "experiential," tours provide a unique opportunity for college students to shop and experience a brand first-hand—trying on a shirt, tasting a treat, testing out technology.
You may be wondering, "How do I build a campus mobile tour experience that attracts college students, makes a memorable experience, and drives brand ROI?" Here are the top seven elements to consider when designing a mobile tour.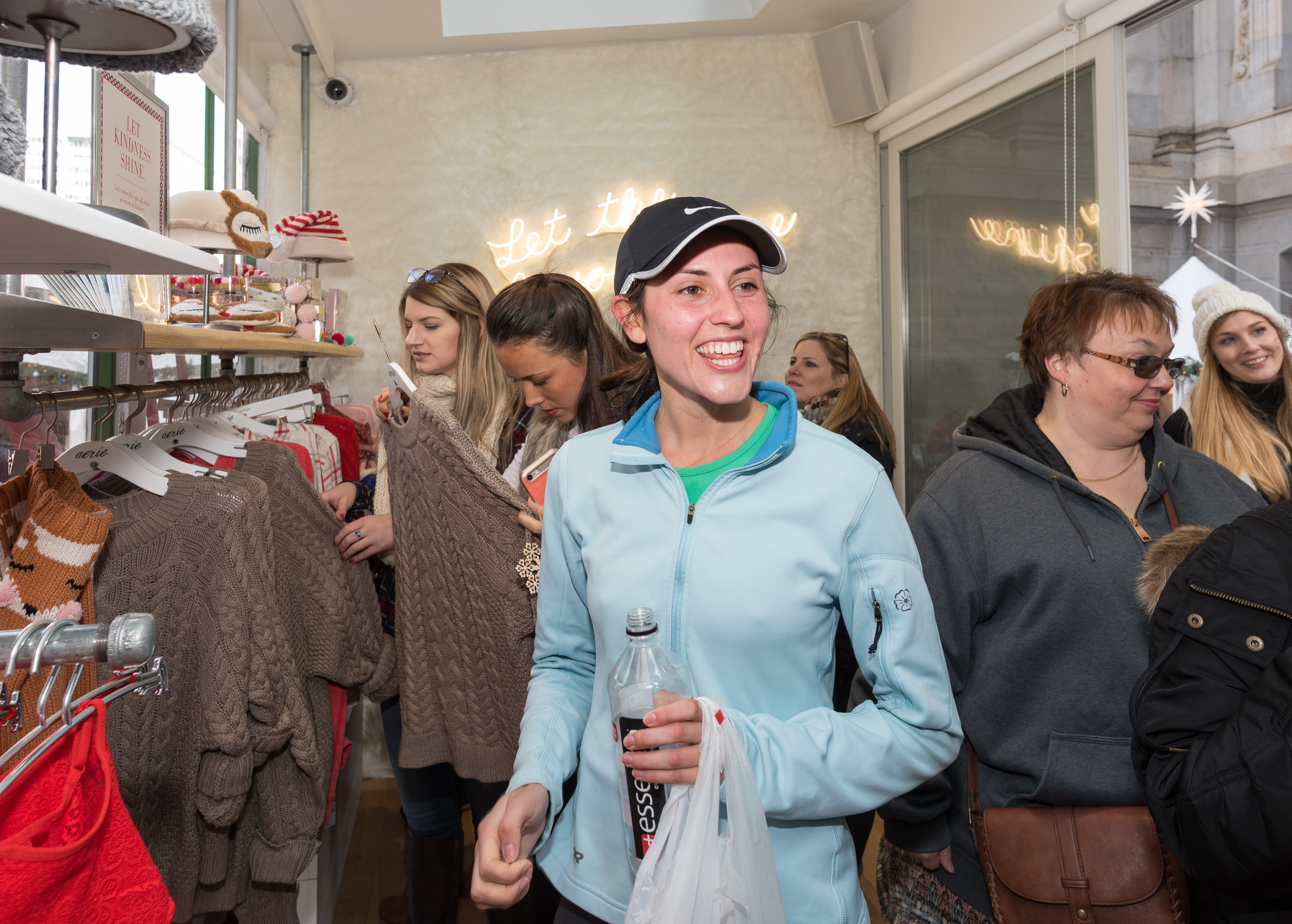 1. Vehicle Fabrication
The tour vehicle itself (airstream, mobile trailer, bus) can pop up anywhere, in a bright and bold fashion, making it hard to miss on campus. The vehicle needs to feel inviting, innovative, and comfortable to the consumer. Factors to consider include vehicle size (exterior and interior space), branding, heating/cooling, fixtures, product/item assortment, display, and design. Vehicles can be loaned, leased, or created from scratch based on available budget and intended length of use.
2. Tech
Students do not have patience for anything less than instant gratification. The mobile tour's technology and POS system needs to be top-notch. Most locations do not have reliable WiFi, so this functionality needs to be built into the structure of the vehicle during the fabrication phase. Power and security are also two critical logistics that cannot be overlooked.
3. Location
Location, location, location. Students simply don't deviate too far from their day-to-day path. Getting your mobile tour experience on or near campus is ideal for maximizing attendance and walk-by foot traffic.
4. Staffing
Finding the right people to run the show is a top priority. Tour staff need to be responsible, hardworking, and able to represent the brand in a professional manner. The most successful mobile tours have a combination of agency, campus rep, event, and brand team members on-site to collaborate and fill the various roles of the event.
5. Promotion
Getting the word out about the upcoming mobile tour is one of the most important actions to ensure success. Campus reps can leverage extensive on-campus and online networks to raise awareness and generate excitement among their peers. Targeted social media posts on the reps' personal channels leading up to and during the event help catch student attention.
6. Experience
Beyond the mobile vehicle itself, creating a memorable and engaging experience is key to attracting and retaining students at the event. Elements to consider include on-brand music, unexpected snacks, DIY activities, a comfortable lounge area for relaxing, a photo wall for snapping the perfect Instagram shot—or all the above!
7. Exclusive Offer
Everyone loves a discount. Promotional offers are important to boost attendance, increase purchase consideration, and drive sales. "Doorbuster" giveaways and free items are incredibly effective at driving traffic and attracting a line of students waiting for doors to open.
Mobile marketing is a smart way for brands to reach new markets without a local retail presence. Students are always excited by the opportunity to check out a new happening or event, especially when it's located conveniently next to their classes or apartment. When executed correctly, typically with the help of an experienced marketing agency, mobile tours will help your brand increase awareness and attract new customers.
WANT MORE? CHECK OUT THESE BLOGS
HOW CAN YMC HELP?
Looking to hit the road with your brand but aren't sure how to get started? Finding the right partner is key to your success. Here at YMC, we've been helping brands connect with 15- to 29-year-old consumers for two decades—we'd be happy to share our wealth of knowledge with you. Contact us today!