Student Micro Influencers Are the New Celebrity Endorsement
As buzzworthy as the word "influencer" has become, influencer marketing is nothing new. Celebrities have long served as poster children for the influencer model. But with the rise of social media, it's now possible for an average person to become an influencer. Instead of being discovered by a talent scout or moving to NYC or LA, social media has democratized who gets to be famous and serve as an influencer. All you really need nowadays is an Instagram handle and iPhone Portrait Mode.
Over the past several years, there has been a rise in influencers (AKA Instagram celebrities with millions of followers and a perfectly curated online persona), replacing the long standing reliance on celebrities for endorsements and marketing campaigns. We are beginning to see another shift that is set to rock the evolving industry.
Bigger Isn't Always Better
Instagram celebrities are becoming increasingly expensive and are often personally disconnected from their audiences, causing brands to question ROI and look for alternate avenues to maximize it. As authenticity dictates what breaks through the social media marketing clutter, brands are turning to the support and clout of micro influencers to not only help further their marketing endeavors, but also to help build a brand story, raise awareness, and connect with consumers in an engaging, relevant way.
Unlike "Instagram celebrities," who may have millions of followers, micro influencers typically reach an extremely targeted group of followers. While they tend to have fewer followers than Instagram celebrities (anywhere from 1,000 – 100,000 followers), they normally enjoy a higher level of engagement, likely because they are perceived as being more relatable. Since they're able to create and cultivate a kind of relationship that isn't likely for individuals with millions of followers, they're 4x more likely to get a comment on a post.
The Student Sweet Spot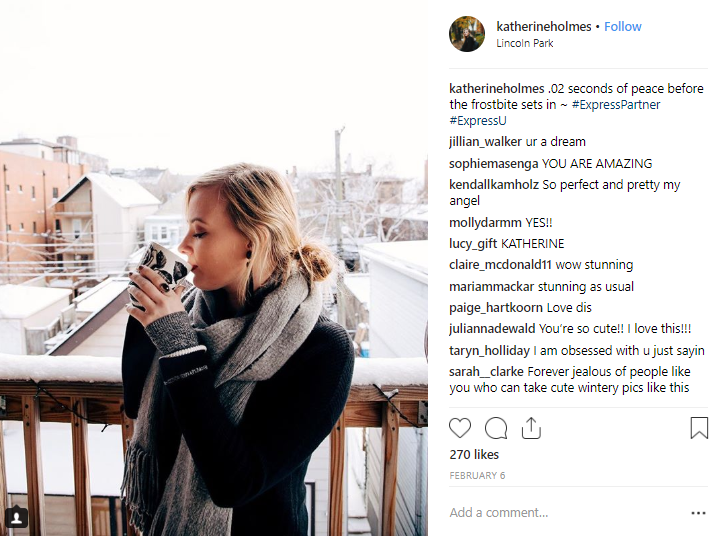 The student demographic is where micro influencers flourish because students are particularly interconnected and social. As a group of digital natives, Millennials and Gen-Z are used to sharing their lives on social media. They're constantly creating their own content and building their following while managing to make it to class and pass exams.
And long gone are the days of the "broke" student stereotype. In fact, college students spent $523 billion dollars in 2015, 39% of which was discretionary spending (food, entertainment, clothes, transportation). Research shows that students are more than willing to spend their money on the brands they love and are looking to their friends for honest recommendations. Brands would be wise to embrace the "less is more approach," and fully lean into the power of student micro influencers.
Higher Engagement
Students tend to have higher engagement rates than celebrities due to their ability to be more interactive, responsive, and build stronger relationships with their followers. They aren't strangers—they're your sorority sister, your lab partner, your class president. According to a HelloSociety study, these campaigns can deliver a 60% higher engagement rate than the average campaign powered by a celebrity or Instagram celebrity.
While celebrities definitely have a larger reach (potential number of people who could see the content organically), the demographic makeup of their followers can result in a lost message, as many people may not care about that they are trying to promote or it may not be relevant to their lives.
Authenticity
84% of Millennials don't trust traditional advertising and Gen-Z places the most trust on messages from their peers. These demographics have refined B.S. meters that allow them to spot when promotions are solely based on a contract. When students feel like they are being sold to or that the content doesn't directly relate to them, their built-in adblock is activated.
Instead of a brand reaching out to desired customers directly, brands can use student micro influencers to accomplish this task in a more natural way as a peer. They can give more authentic endorsements because they like a product, not because of a contract or compensation (although typically both are involved). When it comes to celebrity accounts with millions of followers, no one actually believes that they are a real fan of the product…they're just trying to get paid.
To incorporate this level of authenticity and accessibility, it's important to do your research. Recruiting and selecting student micro influencers on college campuses can be tricky business. It doesn't matter how much strategy and thought went into the campaign—if you select the wrong students, it can be detrimental. Showcase students who reflect the lives of the target consumer and you'll connect your brand to that target consumer in a meaningful way.
Content Creation & Ownership Rights
Millennials and Gen-Z respond best to content that looks like them, so there's no better way than going straight to the source for content. Student micro influencers are content generators for a brand. Student content can outperform celebrity content while maintaining authenticity (and it comes with a smaller price tag).
Brands can also repurpose student content to generate additional revenue from a campaign. Repurposed content increases the value you get from your campaign and has been proven to drive further sales. Depending on the contract, your brand may be able to secure unlimited, royalty-free rights to content, instead of having to pay usage fees.
Offline Conversion/Word-of-Mouth
Student micro influencers have a unique power to take their online conversations offline and power them through word-of-mouth, striking up conversations with their networks on campus (hello thousands of college students) and directly influencing their networks face-to-face/peer-to-peer. According to a Nielsen study, 92% of consumers value referrals from friends or family members.
Cost
According to HelloSociety, micro influencers are 6.7x more efficient per engagement than influencers with larger followings. You can generate the same (or larger reach) by assembling a team of student micro influencers on varying campuses for a fraction of the cost, while adding a more diverse, yet still targeted audience.
While celebrities and mega-influencers hone their monetization strategies to make their social media presence a sustainable business with well-developed pricing structures, the average college student will be more than happy with free product or services and a small stipend.
Want more? Check out these blogs:
How can YMC help?
Want to recruit student micro influencers for your brand? Finding the right partner is key to your success. Here at YMC, we've been helping brands connect with 15- to 29-year-old consumers for two decades—we'd be happy to share our wealth of knowledge with you. Contact us today!