How Adidas Leapt from Athletic Style to Street Style
As a twenty-something with an interest in fashion and pop culture, I like to think I am always up on the latest trends and "in the know." Therefore, it was a huge surprise to me when adidas apparel burst back on the scene a couple of years ago, seemingly out of nowhere. And at the forefront of the new adidas fashion wave was the Stan Smith tennis shoes. These white tennis shoes were popping up everywhere, replacing the neon Nike running shoes that (literally) ran the show my freshman and sophomore years of college. I was extremely interested in this adidas takeover and decided to trace this trend back to its roots.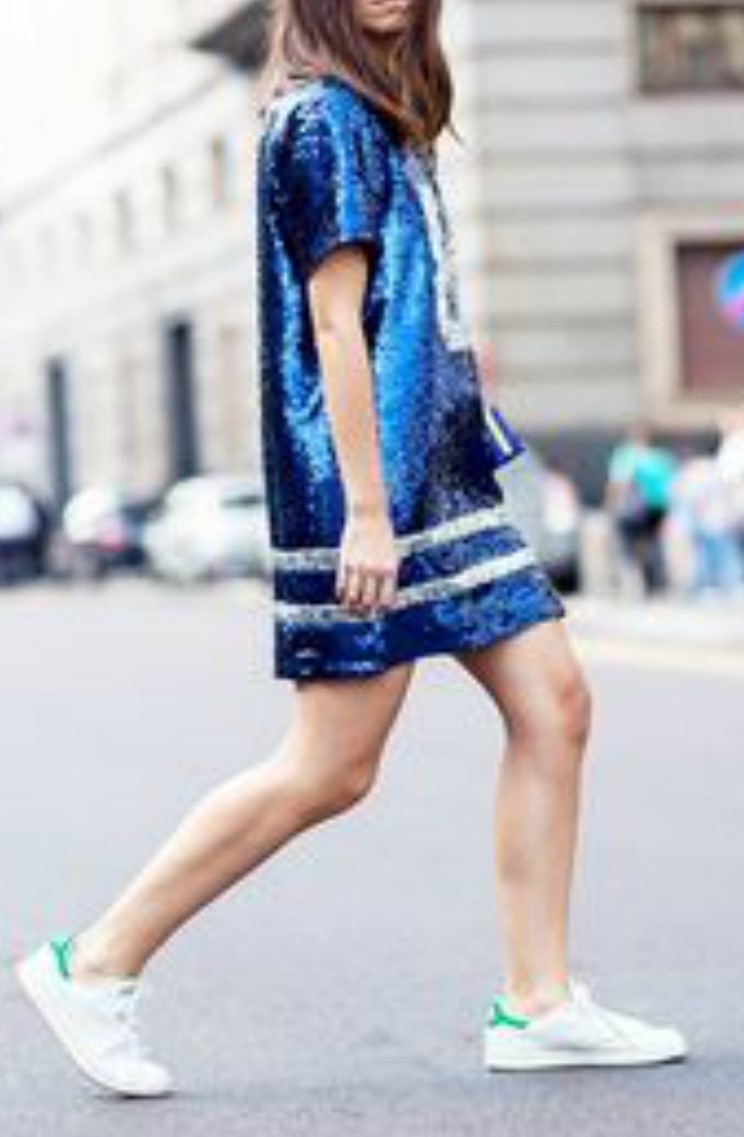 The rise of the Stan Smiths can be attributed to the marketing genius of Jon Wexler, adidas Global Director of Entertainment and Influencer marketing. It seems as if the return of these sneakers was a calculated marketing move by the adidas team way back in 2009. They decided to revamp the classic Stan Smith tennis sneaker in a way that would appeal to Millennials. An article by The Guardian discusses this marketing strategy and states that Wexler "pretty much confirmed everything Miranda Priestly says in the legendary cerulean blue Gap jumper monologue in The Devil Wears Prada… He describes the Stan phenomenon as 'the classic model of a trend continuum actually working.'" Which basically means, for those who haven't seen The Devil Wears Prada, that the fashion industry leaders start trends by putting their products in the hands of trendsetters. These trendy individuals are being watched by the masses and once they are spotted wearing a new brand, it immediately becomes popular.
Wexler chooses who will represent adidas based on if they are authentic and if their actions align with the adidas brand. He stated in an interview with Complex that adidas looks for "people who are creative and groundbreaking, who set trends and forge their own paths and are not afraid of what people are going to say about that. Obviously the people [adidas works with] are iconic, because it is the most iconic brand in the world." Wexler knew that he had to showcase the revamped Stan Smith sneaker with some of the most influential and iconic personnel in the fashion industry. He decided to entrust this task to Phoebe Philo, the creative director of Celine. He put the sneakers on her more-than-capable feet and the rest was history. When Philo wore Stan Smiths as she came out for the end-of-fashion-show bow during 2010 Paris Fashion Week, a trend was born. Philo was also one of Time's Most Influential People in 2014 so that just emphasizes how putting the Stan Smiths on her feet was the best move adidas could make.
Since the reveal of the new sneakers in 2010 things have been looking good for the Stan Smiths and adidas as a whole. In 2013, Gisele graced the cover of Paris Vogue wearing nothing but Stan Smiths. In 2014, A$ASP Rocky and Pharrell Williams both made custom Stan Smiths. North West was also spotted wearing a pair of the sneakers, displaying the influence of the Kanye West-adidas partnership. The impact of adidas' partnering with some of the biggest names in the industry is huge. These individuals have the ability to start a trend with one photo. Wexler discussed this stating, "When Kanye shows up in GQ wearing Pure Boosts or Stan Smiths, I've got to assume there is an impact [on sales]."
As for me, I purchased my first pair of Stan Smiths in the spring of 2015. I wore them with dresses, skirts, jeans, overalls…you name it. I was already known as the girl who was always wearing sneakers anyway, I just made the transition from Converse to adidas. Converse used to be my go-to sneaker but I, like most Millennials, have traded in basketball sneakers for tennis sneakers and Chucks for Stans. I was wearing my Stan Smiths over the summer on the New York City subway going to Brooklyn. A guy sitting across from me gave me a little head nod and mumbled, "Cool Smiths." If a random hipster in Brooklyn compliments your sneakers, you know they're cool. The innate coolness of the Stan Smiths was widely accepted by 2015 and adidas certainly took the chance to capitalize on this new image of their brand.