COVID-19 On Campus: A Reflection On Campus Marketing in 2020 and Predictions for 2021
The COVID-19 pandemic has fundamentally changed the lives of people around the world. This has been especially true for college students.
So much of the traditional college experience hinges on interpersonal connections and shared spaces. But, given the nature of the COVID-19 virus, colleges and universities have had to take things in a drastically different direction without much warning. Institutions have been forced to adapt to a new normal, which put the health and safety of students first. 
In-person classes were replaced with Zoom lecture marathons and countless hours in front of dual screens; crowded dining halls and student unions were forfeited for virtual events and distanced social interactions; and much more.
As you can imagine, these sudden changes also drastically impacted campus marketing efforts. At YMC, we adapted our campus marketing strategies to engage students no matter where they're living, studying, and sharing in 2020.
With 2020 in the rear view mirror, we wanted to share some of the valuable things we've learned and our predictions about what campus marketing will look like in 2021.
Every School Is Different
After unexpected school shutdowns in the spring 2020 semester, colleges and universities had a bit more time when strategizing their opening plans for fall 2020. One of the main things we noticed was the wide variance in the operating status of campuses based on state, local, and university-driven COVID-19 regulations.
Leading up to the fall semester, we referenced The Chronicle of Higher Education's list of campus reopening models daily to stay on top of the national landscape. On the local level, we found that our YMC student network and ambassadors provide the most accurate information regarding students' locations (living remote, on, or off campus) and behaviors. 
We've leveraged this information to adapt our campaigns in real time and adjust expectations by campus. We always treat each school individually when managing college marketing programs; and in this situation, input from students helped us optimize what we could safely execute for the best results.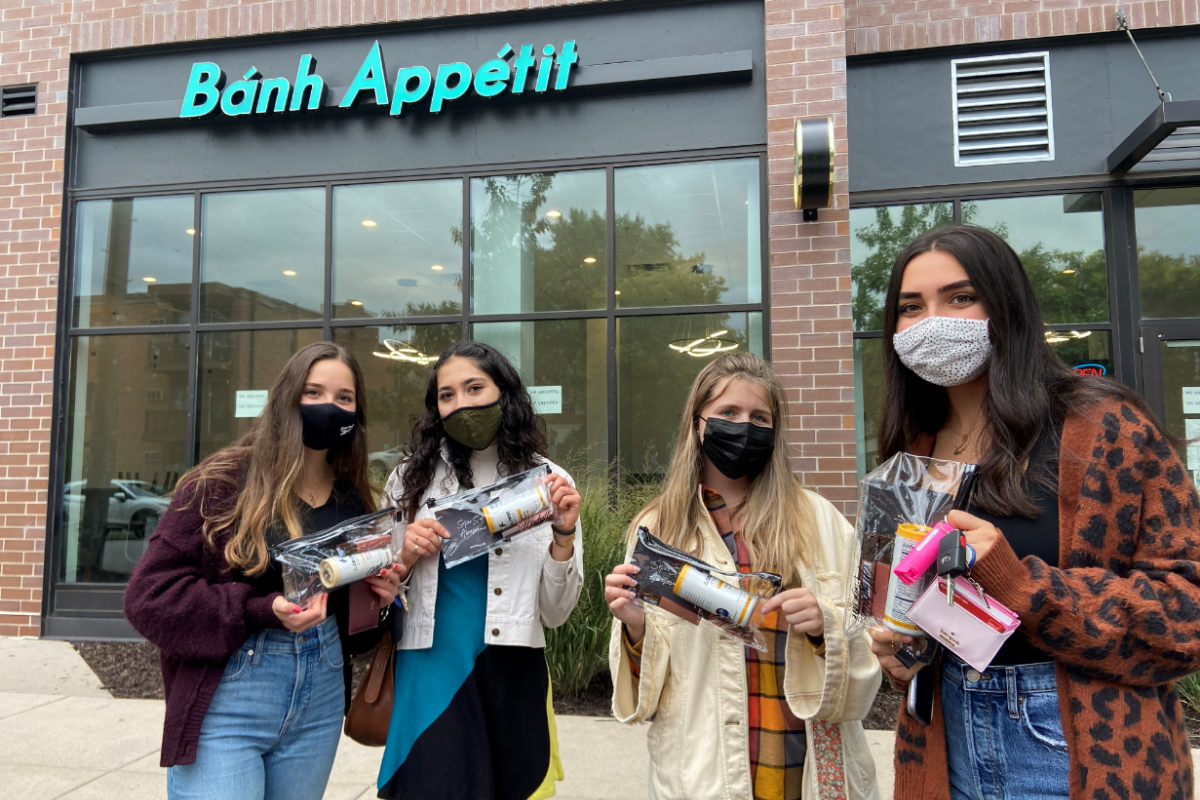 "No Touch" Sampling Can Be Highly Effective
As we studied the varied reopening plans for the fall 2020 semester, we found that many campuses selected to offer adjusted in-person or hybrid learning models. In these cases, we found that working with local students to understand the protocols associated with activating on campus, the access level to students, and the overall comfort with face-to-face (always masked) interactions has been beneficial.
For our Maybelline program, we worked with college ambassadors to distribute pre-packed product sampling bags and gifts to on- and off-campus housing complexes and outdoor gatherings. This varied from pre-COVID interactions where Maybelline ambassadors offered students high-touch product interaction and trial experiences. 
Because in-person brand interactions were so limited in 2020, students expressed increased excitement and appreciation for Maybelline's efforts to reach them during a difficult time. Product sampling bags reached thousands of students and resulted in over 10k product link views and a 5% conversion rate to purchase.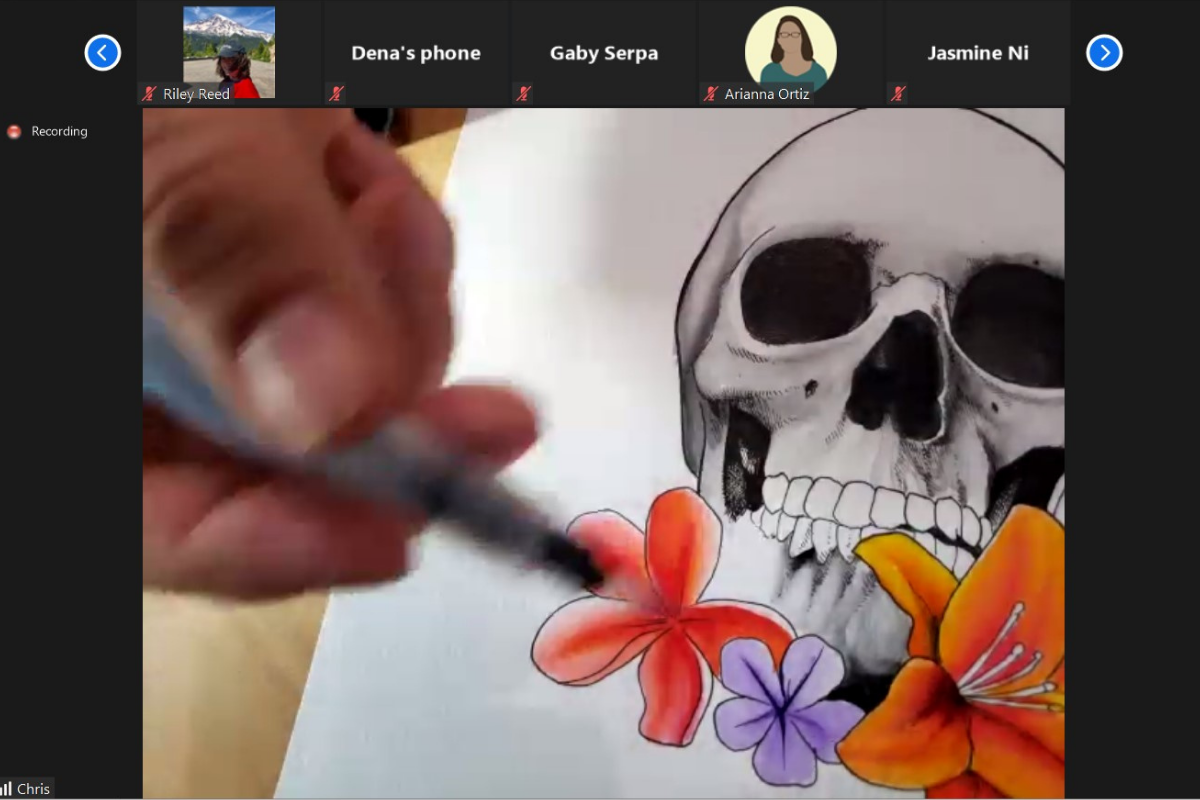 Digital Events Work
Digital events have also been successful, as they've enabled our brand partners and ambassadors  to provide brand experiences to broader audiences.
We found that college students are most likely to participate in events hosted after 7 PM EST on weekdays and early-to-mid afternoon on the weekends. Digital fatigue is real and this timing provided students with a break in between classes and another virtual activity. Meeting platforms (such as Zoom and Google Hangouts), microsites, and Instagram Live have offered the best interaction with this audience.
In our work with Pentel, we transitioned a longstanding in-person art experience into an online format and encouraged students to relax and create in their own space. We partnered with Pentel to host a 3-night Pentel Sketch Session event series featuring calligraphy, watercolor, and line drawing classes with featured artists. Hosting these events digitally allowed Pentel to bring in experts to showcase skills and answer art-related career questions with college students at scale. 
Social Media Is Essential
While Gen-Z has been using TikTok for a few years, the pandemic and stay-at-home culture have accelerated mass adoption and endless scroll time on the platform. We found success in encouraging ambassadors to leverage short-form video clips on TikTok and Instagram to further engage their followers and feature brand products. Students were able to amplify existing brand challenges or create their own by pulling from the latest trends.
Our brand ambassadors played an important role in the launch of Aerie's first TikTok challenge. The #AerieRealPositivity hashtag challenge created a movement around expressing yourself and sharing positivity at home. With the amplification of a paid campaign and celebrity role model support, this campaign generated 6,600+ user-generated videos with 2.1 billion views. 
Looking Ahead at Campus Marketing in 2021
As you can see, we've learned a lot in 2020. And, while the pandemic isn't over yet, we're feeling an increased sense of optimism about the year to come. 
Now that colleges and universities have more than 10 months of prevention and testing experience under their belts and the COVID-19 vaccine is in early stages of distribution in the U.S., some institutions are preparing for an increase in in-person and hybrid course offerings this spring.
As we begin planning for this year (and beyond!), we wanted to share a few predictions about what campus marketing may look like in 2021. Please note that the following are subject to national, state, and local policy, as well as CDC guidance.
January – March 2021
The early part of 2021 will likely look very similar to the past few months, with limited in-person events and classes.

Late March – April 2021
In the late months of the spring 2021 semester, we expect campuses with in-person and hybrid learning models to begin to explore the possibilities of holding outdoor, in-person events and activities. This will likely be especially true at warm weather schools in the South and West regions of the U.S..

Fall 2021
The fall 2021 semester presents the best opportunity for a potential return to "regular" campus life. At this time, it's likely that the health and safety precautions introduced in 2020 will remain at the forefront for the next several years.
In summary, we recommend that brands continue to lean on digital events and social tactics to engage students in the early part of the year. As the weather starts to get warmer and students spend more time outdoors, "no touch" sampling can resume and the possibility of highly regulated in-person events can be explored. The summer months should allow for more in-person brand engagement, while full-on experiential activations, mobile tours, and student-led events are more likely to return in the fall 2021 semester.
How YMC Can Help
If you're interested in learning more about college marketing during this unique time, we're here to help. At YMC, we've been connecting brands with 15- to 29-year-old consumers for two decades—we'd be happy to share our wealth of knowledge with you. Contact us today!